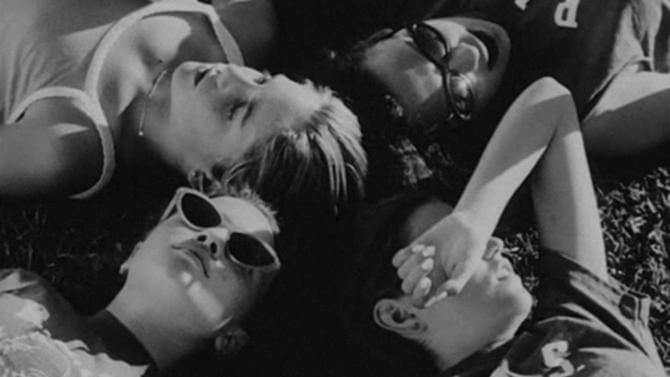 Lick the Star
If you've ever been on the deep ends of youtube looking and desperately searching for the next shocking experimental film to watch, then 'Lick The star' is exactly what you need. Lick the Star Is a 14-minute-long black and white 16mm short film, and the first film written and directed by Sofia Coppola. Right at the edge of the 90's heroine chic fad, Lick the star borderlines on dirty realism but retains a beautiful poetic narrative.
This low- budget teenage flick has an The 'Avant Garde' experimental 'je ne sais quoi ' about it. The visuals embrace that early 90's fashion magazine Nan Goldin and David sims style. Entirely shot in black and white beautifully capturing the comic dramatics of the film.  A very unique and almost Vogue-like depiction of spoilt and Entitled teenagers. You're immediately dropped into the scandalous world of teenage girls in high school, and even though we've seen so many high school dramas over the years you've never seen anything quite like this. The visual style imitates a gothic yet the plot is driven by teenage lust. The film's dramatic and isolating feel is almost symbolic of a Sylvia Plath recitation. Lick the star romanticizes tragedy and revenge so interestingly and loves that they chose to present this in black and white as it complements the morbid theme so perfectly. The film centres around 'Superficiality' vs 'reality', where Chloe battles these intimate struggles while being completely ignorant of the real world. It draws inspiration from the 1996's Craft and the unscrupulous dynamics of teenage girls who rage through womanhood.

The plan is to slowly poison the boys through their lunches, inspired by Chloe's obsession with the novel Flowers in the Attic. Flowers in the attic is a 1979 Gothic novel by V. C. Andrews, a dysfunctional family saga. Chloe's interests align with the look of 'Lick the Star' and we are immediately immersed in her world. The theme plays with her story and her haughty personality. I thought this film was brilliantly shot and stylistic in a way that immediately you intrigued. It has this sort of Stephan king meets sex and the city vibe – eerie but sexy. oddly underrated however one of Sofia's finest works and one of her first successes. Sofia Coppola has a very unique style which is proved by her following, "The virgin's Suicides". Seems to me that it's almost a documentary, always an up-close view of what's going on in the so-called 'Girl World'. How the story is told is what creates a sense of horror, and Coppola has a great personal, intimate style that's truly feminine in its capacity, but also has that dark mysterious edge.