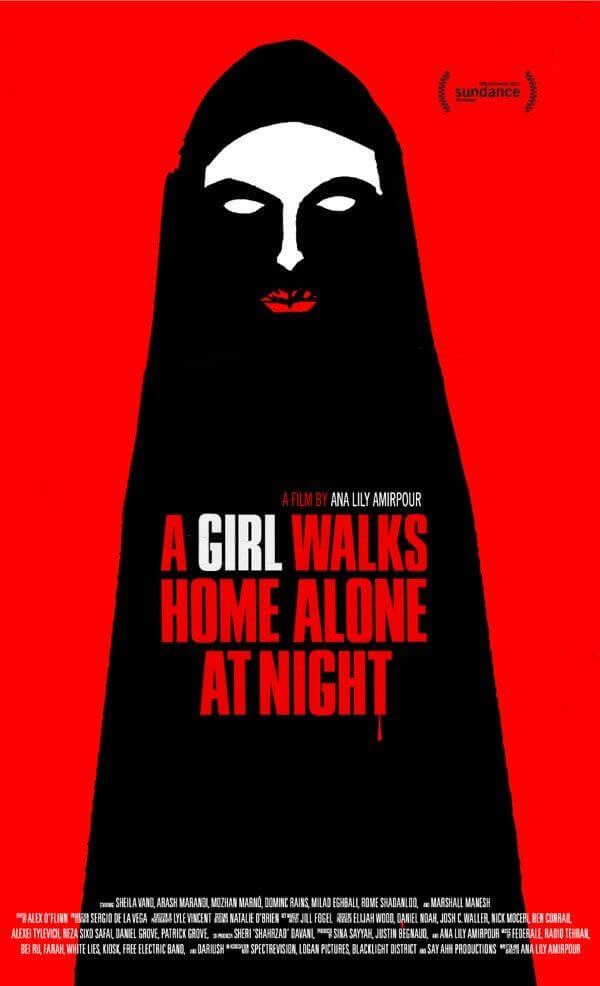 A girl walks home alone at night review- take small bites
A girl walks home alone at night' is a 2014 American horror Western film written and directed by Ana Lily Amirpour. Promoted as "The first Iranian vampire Western", A young, hardworking Iranian man named Arash lives with and takes care of his heroin-addicted father, Hossein. They are harassed by a cruel, drug-dealer pimp named Saeed, who seizes the young man's prized car in exchange for money the father owes him. In a crime of opportunity, Arash steals a pair of diamond earrings from the wealthy young woman he works for, Shaydah.
Saeed comes across a strange young woman in a chador at night. She persuades Saeed to take her back to his apartment. While there, she grows long fangs and you know the rest… a visually stunning film with a lot to draw from. Very Artistic choice of backdrop- a worn-down Iranian city almost seems like a period film after a revolution takes place however they don't tell you the timeline because it's hardly important in this complete black and white dystopian world. I found myself immersed in the film from the Get go.
The choices of music also struck me, perfectly setting the mood in each scene and sequence, the viewer is absorbed and transported to another time and place and leaving reality behind for brief respite is always a welcomed experience in my book. I love when I find a movie like this that i fall in love with so much that not only do i not want it to ever end, but i find myself searching in vain for something else like it to have the same experience again. Thoroughly enjoyable and beautiful to watch, both in terms of performances and cinematography.
An intoxicating blend of artistic visuals, eerie horror and dark atmosphere creating a classic vampire of 70s and 80s. Ana Lily Amirpour portrays one of the frightening characters that you've seen in recent years. I mean, the idea of a tall girl wearing a long veil with dark makeup is too scary that might give you a stroke. Sheila Vand, the lady vampire, did a marvellous job in the way she acts and reacts, a chilling performance. At last, though the movie is an aesthetic gem, it sometimes seems to get lost in moods but on the whole a cinematic feast to both eyes and ears that will be remembered for a long time.
I think the most important thing I noticed was the French influence in the style of film. In terms of the dialogues and creative choices, it was a very French new wave. Coincidentally Iran used to be a French colony, so understandably the fashion, makeup and culture in the film is quite similar in appearance while also having its unique and bizarre look to it. This may not be everyone's cup of tea, and if you're a Farsi speaking person some dialogue errors and bad timing may distract you from the story and the creative efforts however this is a film to be appreciated and watched. Don't go in with a lot of expectations, the film is quite slow at times but it's meant to be because that's what draws us to it's mysterious feel, more than just a film it's an experience.