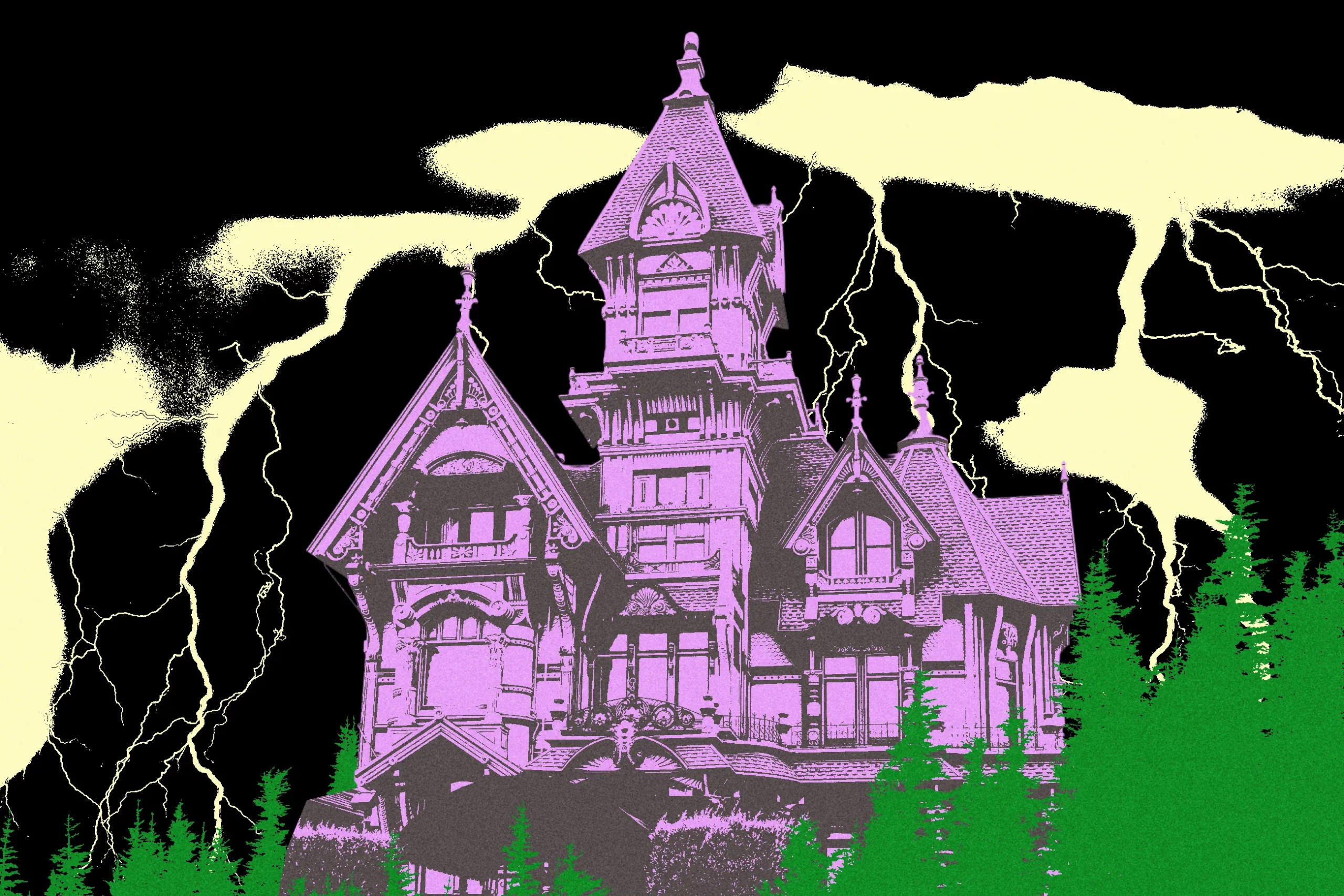 A LOVE LETTER TO HAUNTED MANSIONS.
If you grew up in the 90s- early 2000's you know that ' The Haunted Mansion trope' was making a big comeback with The Addams Family, re-runs of Scooby doo, Batman the animated series and Eddie Murphy's hilariously campy 'Haunted Mansion' But what is it that makes The mansion live on in every generation compelling us to the strange house that sits on a hill beyond the dark?
The Haunted Mansion is embedded in pop culture as 'The Amityville house', ' The LaLaurie House' or the infamous Conjuring home in the middle of nowhere Connecticut. Haunted houses exist, they serve the purpose of the unresolved and undead. Old lovers, deceased children and malicious spirits. Don't we all have unfinished business? This is why the mystery of the house is what draws us in, we see ourselves in the grand estate. Old, lonely and unfulfilled.
The film House on Haunted Hill 1959 starring Vincent Price Directed by William Castle was the first of Many. From the spooky caretakers and quick-witted lines by Fredrick Loren and his wife, there is so much to unravel about the film that barely has much to do with actual ghosts at all. The film very clearly presents the absurdity of Human nature acting out in a vicious way to get what they want. A re-occurring theme we see in 'Scooby doo where are you', unmasking the villains who are were the true monsters of our society. Castle's other films '13 Ghosts' and 'the Mask of the Red death' all take place within the confinements of a spooky castle. Perhaps the limitation of the four walls contributes to a more compelling, a more high stake type of horror we can never fully escape from, maybe it's ourselves?
We first see 'the Spooky Mansion Trope in German Expressionism films Like 'Nosferatu' which later Inspires Horror movie moguls Like Bela Lugosi and Boris Karloff to play the legendary monsters of our time – 'Dracula' and 'Frankenstein'. Swinging skeletons, Undead Mummies, Floating spirits and vampires are all a part of the living dead that exist within the walls of the Spooky Mansion. With an element of Obvious suspense, there is a scent of Gothic Romance. A type of love that grabs from under the grave. Either it's by Lover's revenge in 'Nightmare Castle 1965' or it's some type of Sexual desire that compels characters such as Dracula.  
AN INVITATION FROM THE HOUSE
By the 60's Haunted Mansions were coming to be less Gothic Romance and more Mystery murder with Ghosts that appeared far more grotesque and monstrous. With the current climate of War and violence, audiences craved horrors they could escape to. Usually, a group of ( rich) guests would either be invited or would plan to go to a Haunted house with the purpose of winning a grand prize or solving a mystery of some sort. In the midst of this one by one, the members of the group would fall victim to the house's evil. This could be by murder or by possession. Evil is most likely a person disguised as an entity killing in cold blood.
The Haunting (1963)
Directed by Robert Wise, this is an old gothic tale about a house. A group of persons assemble at a haunted house to resolve its mystery. Its members are sympathetic or sensitive to the unseen. What none of them suspects is that the house is not in their possession but that they have become possessed by the house. One of the group's members is soon pulled into the dark side and joins the house's collection of vigorous ghosts. 
Very immediately this film sets its expectation straight. Yes, This is very simply a classic Ghost story. One that viewers who have grown up on Old Classics will appreciate for its ghoulish series of misfortunes and extravagant set designs.
The Legend of Hell House (1973)
Adapted from Richard Matheson's 'Hell House' this is a film that combines spirits and human psychology all in one. A physicist brings science, machinery and a couple of mediums to the Belasco house, infamous for the wicked proprietor, his wicked ways, and his wicked haunting of the place. The goal is to prove the afterlife exists. However past attempts to experiment in the house have resulted in deaths, that is except for one person, and he is the medium who returns once again to the old mansion.
The Uninvited (1944)
Brother and sister, Rick (Ray Milland) and Pamela Fitzgerald (Ruth Hussey), who become enamoured with a seaside house while on vacation in England. Shortly after buying the house, they realize there is a presence living inside. Stella (Gail Russell), the granddaughter of the former owner of the house, befriends the Fitzgeralds and visits them often, but it soon becomes clear that Stella has a connection to the ghostly presence. The Uninvited is a fantastic haunted house movie that finds a near-perfect balance of spookiness and mystery.
THE HOUSE PERSONIFIED
A common trope of Haunted house stories is the personification of the house. The house has a life of its own, swallowing int's victims into submitting to its whims. Possessing them and trapping them in a desolate house.
HOUSE (1977)
Hausu is simply a highly creative horror/comedy made by a commercial TV director   Nobuhiko Obayashi after a conversation with his pre-teen daughter. I wouldn't call it "weird" as some others do. Much of what Western audiences might find weird about it comes from certain Japanese cultural perspectives, making it more incomprehensible than odd.
In the mythology of the various Japanese spirits known as Yokai, there is a type known as Tsukumogami, antique household objects (forks, spoons, musical instruments, etc.) that come to life after 100 years. Seeing the heroes of the film engaging in a (rather amusing) karate battle with household objects is less understood as a plot point until one knows a bit about Yokai. It is the fears of a child brought to life through the creative lens of adulthood… with a man-eating piano thrown in for good measure.
Monster House (2006)
Steve Starkey (producer), Dan Harmon and Rob Schrab (the writers), and Gil Kenan (director) Bring This Monster house to life in this spectacular animated film. The spirit of a deceased wife possesses her husband's house and turns the house into a living monster with feelings as it fills up the husband's soul with grief and vicious anger. The heroes who will put an end to this catastrophe is a trio of kids at the tail end of their childhood. Also, most importantly, this movie feels genuine as it unfolds down-to-earth themes of loneliness, wrath, puberty, and death. 
The amazing craftsmanship shows how meticulous these filmmakers are; it has uneasy instantaneous suspense, and excellent timing, it's thorough with brilliant concept writing for details via perfect pacing that never dumbs down the plotline, and it's effective with razor-sharp execution.
THE REAL EVIL INSIDE THE HOUSE
Sometimes the Haunted House is just a prop for what lives inside it, the living people. Sometimes places aren't haunted or evil, sometimes they may just harbour something or someone evil that lives within it and oftentimes in our world today this is prevalent.
Gumnaam (1965)
Adopting the jet-set internationality of the 1960s, it becomes an amalgamation of old-fashioned "old dark house" murder mysteries and pop-art modernism filtered through the lens of James Bond, Mario Bava, and Charade, the title theme of which is adapted into "Gumnaam Hai Koi" (sung by Lata Mangeshkar), which in turn becomes the primary musical motif running through film. 
A group find themselves led by the mysterious singing to a mansion cut from the cloth of a Gothic Mario Bava film, all colour and opulence on the inside, all crumbling ruins, cobwebs, and eerie lighting outside. They are greeted by Mehmood's butler, a comical "provincial" who it seems is playing up his southern bumpkin persona to cover a much cleverer mind than he wants to let on. He certainly knows a lot about each of the guests who have arrived at the estate, the impossibility of which is ruminated on until such time as every decides oh well, time to eat. If you have to be stranded in the middle of nowhere, you might as well make the most of the fact that nowhere provides you with a lovely mansion, comfortable beds, and a butler who's good in the kitchen. It's obvious someone is up to something, but there's no point in worrying about it. Well, at least until the first murder victim is discovered.
Black Sabbath (1964)
Famously an inspiration for the 1968 Rock Band by the same name This Gothic tale by Maro Bava expands on the malevolence of humans living within the old dark house.
an anthology of very moody, stylized horror shorts by Bava which opens with grounded, domestic psychological torment (the first short has to have been the inspiration for the opening scene of Scream) and eventually transitions into full-blown primary colour gothic surrealism. the last short in particular is peak Bava, all candles, cobwebs, and corpses in an artificial dreamscape. the whip zoom on the dead woman holding the cat in her rocking chair is truly masterful horror.
Castle of Blood (1964)
Beginning with an appearance from Edgar Allen Poe, Danse Macabre builds into a brilliantly atmospheric slice of Italian Gothic. The plot focuses on a writer who agrees to stay in a haunted castle for a wager. He meets various characters while there, and naturally, there's more than meets the eye! This film verges on German expressionism and another Classic Italian horror-style film on this list. Oftentimes Campy, sexy but truly entertaining if one lusts for a little blood and thrill.