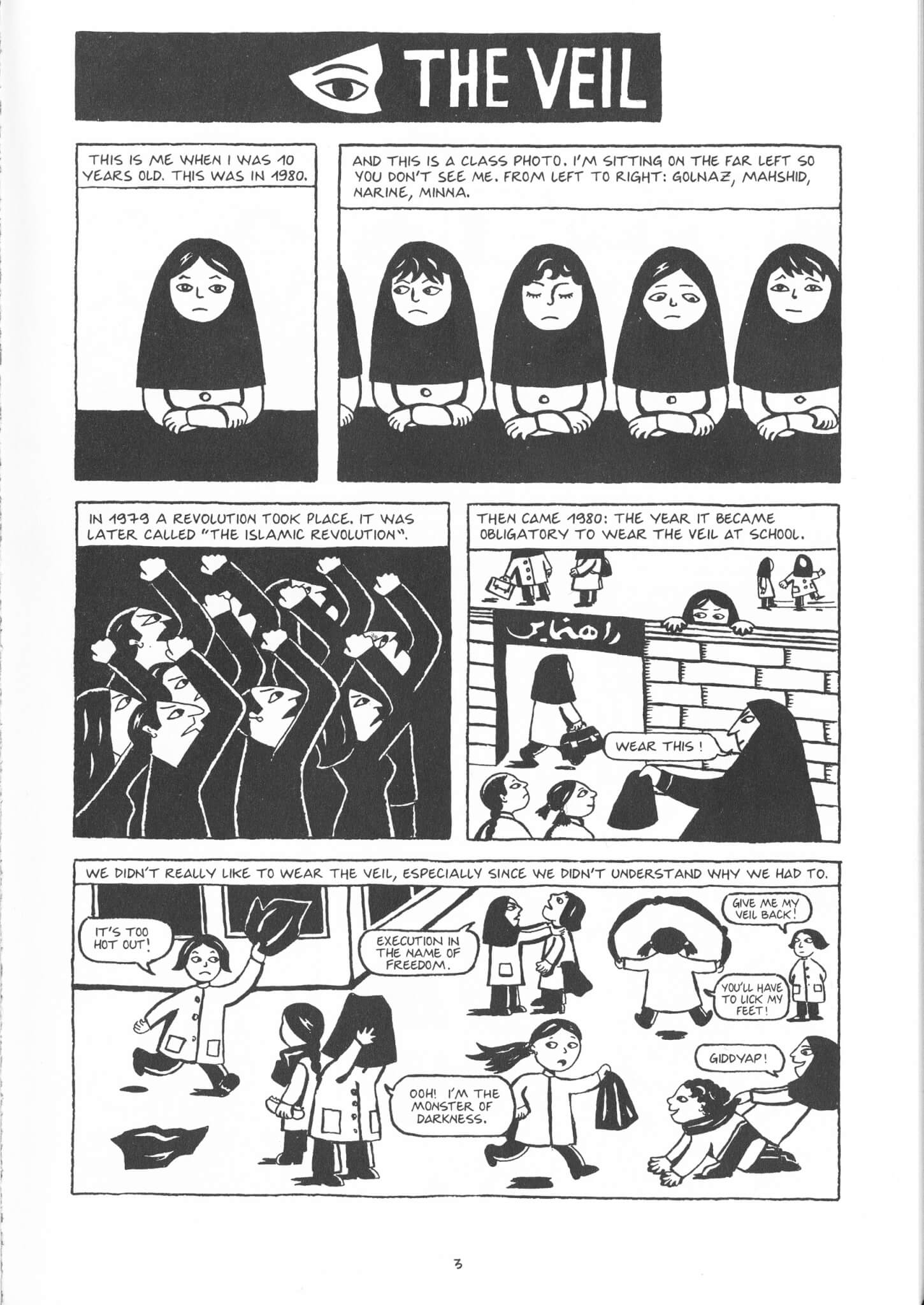 Adult Animation you should know-War and violence
Persepolis
Persepolis is Iranian-French director Marjane Satrapi's adaptation of her own eponymous graphic novel into an animated feature film. Α recounting the experiences of a young girl growing up in Iran in the late 1970s/early 1980s, it is a poignant coming of age tale set against the oppressive background of the Islamic Revolution. under Shah Mohammad Reza Pahlavi—who was supported by the United States—and the replacement of his government with an Islamic republic under the Grand Ayatollah Ruhollah Khomeini, a leader of one of the factions in the revolution. The revolution was supported by various Islamist and leftist organizations and student movements.
Persepolis however gives this whole historical moment an alternate perspective m which is that of a young girl. Honest and realistic. Showing important historic movement and particularly a young woman's point of view. Watch a couple of times before judging. Her effort to get it right shows, and a higher tech would diminish the message.
This movie was a personal favorite of mine, resonating very well with the main characters ideologies and her creative ambitions. Her journey is what I find spectacular about this film and how she evolves from this rebellious teenager to this sophisticated young woman. From family disputes to romance this movie is both a heartbreaker but also a feel good at the same time.
Waltz with Bashir
Israeli director Ari Folman decided to make a documentary film about his own recollections of the 1982 Lebanon War, in animated form. Starring as himself, he embarks on research, visiting people from his past in order to help him remember what exactly happened during the Sabra and Shatila massacre. More than 3,000 Palestinian refugees were murdered by Christian Lebanese militia in 1982, with the consent of the Israeli forces.Waltz With Bashir is considered as one of the most significant animated movies and documentaries, at the same time. It was overwhelmingly well-received by critics and audiences worldwide, won many important film awards, and ended up in a ton of top ten lists of 2008.
As the film finished, and the gruesome final film reel faded to the credits, I sat up for a solid 10 minutes and tried to gather my thoughts to write this review. It's good, really good; not much else to say.
Watership Down
Definitely not a one for kids, neither for family movie night. This classic is based on a British Novel by Richard Briers. The film's plot focuses on a group of rabbits who leave their warren when Fiver (Richard Briers) has visions that a great danger is coming upon their home and brother Hazel (John Hurt) notices he's often right about these things and brings other rabbits as well as being joined by an ex officer of the Owsla Bigwig (Michael Graham Cox) and they set off on an adventure to find a new home. Along the journey they encounter countless perils, violent dangers and heavy confusions among wild and human life alike.
This violent and even disturbing tale haunts you deeply, and the almost war like scenario gives you a more deeper perspective of the world being a cold harsh place we're violence and murder is an everyday scenario.